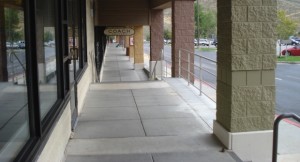 Sidewalks are everywhere – and need to be maintained for a multitude of reasons: Safety, Beauty, Liability, City ordinance, Property value…
Sidewalks serve two important functions. They bring visitors where you want them to go, and they provide aesthetic contrast and interest. People almost always look down as they are walking, and you'd like them to see clean, beautiful sidewalks, and not be forced to look down because your sidewalks are unsafe to walk on.
It is necessary to keep your sidewalks free of snow and ice. The most effective way to remove snow and  ice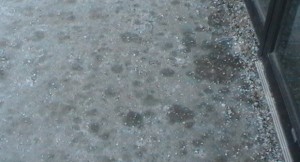 from your walkways is to shovel or plow and then spread salt or de-icing chemicals. Ice-melting chemicals or salt will melt the snow and ice "away". Unfortunately, "away" actually means down into your concrete. As the ice melts, the resulting water seeps into your concrete, carrying with it salt or other chemical de-icers. Concrete is very alkaline by nature, and the salt or de-icer will quickly start to attack your concrete sidewalks.
If that isn't bad enough, a second attack is going on- even if you don't use salt or deicers.  Water will collect in the pores below the surface of your concrete. When it freezes again, it will expand and push against the top layer of your concrete. This pressure causes the concrete to "pop," exposing the stone below and creating pock marks on the surface – leaving  a once-smooth surface full of unsightly and potentially dangerous holes. That's freeze/thaw cycle damage.
CreteDefender P2 removes the worry about the damage the winter season will have on your sidewalks. No need to choose between keeping them safe or keeping them beautiful. With CreteDefender P2, your concrete is permanently protected from salt and chemical intrusion and freeze/thaw damage!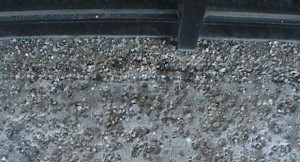 Benefits to Sidewalks:
Elimination of freeze/thaw cycle damage

Elimination of salt damage and chloride intrusion

Elimination of spalling (delimitation or "popping") of the surface

One-time application permanently protects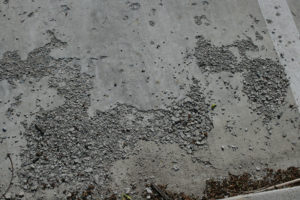 Call (877) 830-6008 today and see how easy and affordable permanent protection can be.
Protecting the concrete stairs
and walkways at the
Newport, Kentucky Aquarium
Sidewalks, entries, and public areas
being protected at
Proctor and Gamble