CreteDefender P2
:
The Most Effective, Least Expensive solution to increase concrete durability and prevent damage.
▸ A non-hazardous solution easily applied to new or old concrete.
▸ Never needs to be re-applied – ever.
▸ Product costs equivalent to common temporary sealers like silane or siloxane.
▸ Sustainable — Go green: reduces landfill, lowers carbon footprint.
End the costly cycle of concrete damage and replacement.
CreteDefender P2 slows or halts each of the processes that damage concrete. The key is to make the concrete denser and more abrasion resistant so it can stand up to wind, rain, grit, chemicals, and temperature extremes. CreteDefender P2 does that.  Apply it instead of commonly used coatings and sealers, and over the lifetime of the concrete, eliminate re-application costs and avoid repair or replacement of damaged concrete. Pay a little on CreteDefender P2 now, or pay a LOT later.
Does CreteDefender P2 work? See for yourself. In the video above are un-retouched photos from northern Illinois, a harsh Midwest U.S. climate. The concrete was three years old at the time of treatment, and both sides were identical at that time. Three winters later, you can see the results.



Permanently protect your concrete. Once and Forever.
That is a bold statement, but CreteDefender P2 is not an ordinary concrete sealer. CreteDefender P2 has been put to the test in some of the most challenging locations: Highway and interstate roads and bridge decks…salt storage facilities…dams…parking structures…water parks…and even commercial cold storage and freezers. After over 21 years of use on over 50 million square feet of concrete and NO warranty claims, CreteDefender P2 is proven to meet the challenge.
CreteDefender saves 90% over the closest alternative
(According to Life-365™, the industry standard in durability modeling)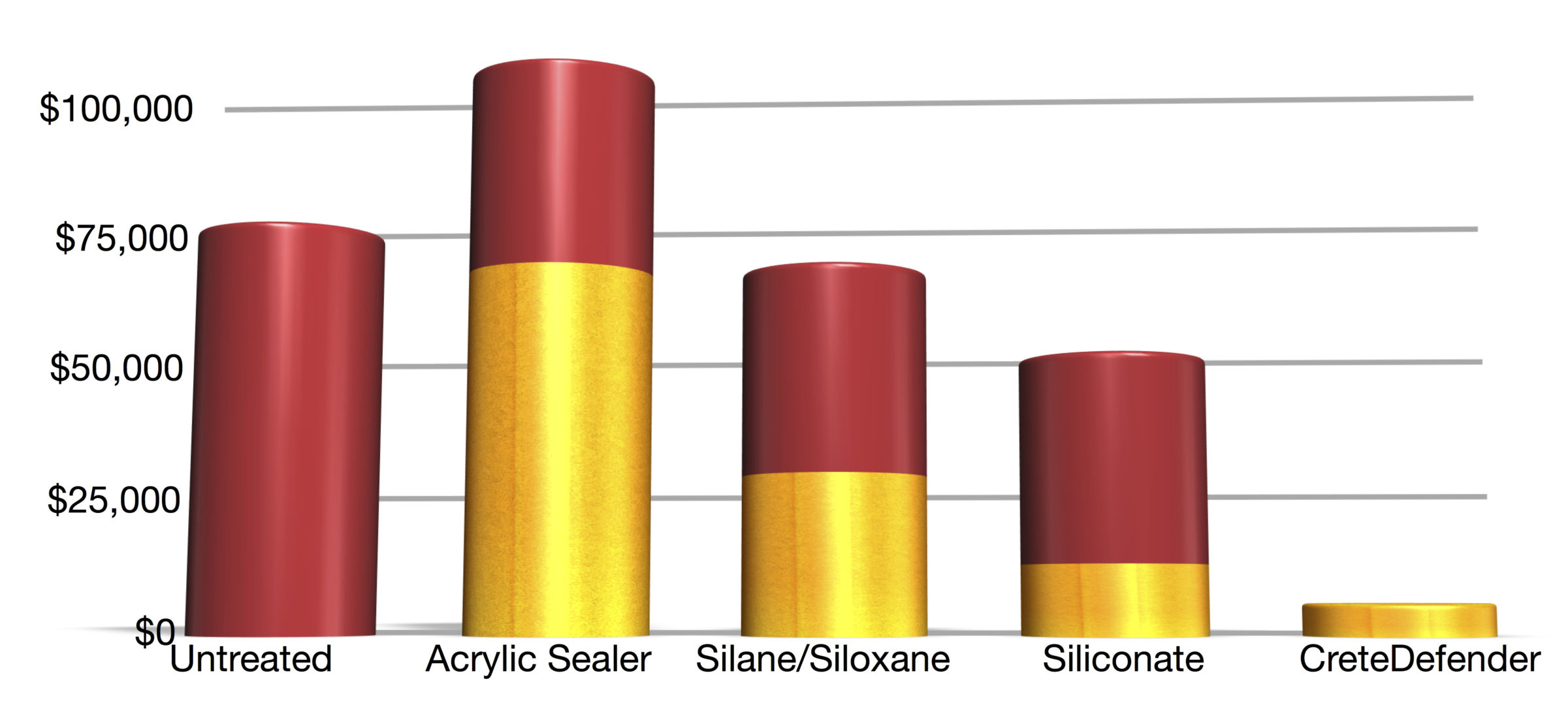 Protectant costs                      Repair costs
25 Year Component Costs.  10,000 Square Feet.

CreteDefender P2 addresses the problems that cause concrete damage. CreteDefender P2 works IN the concrete, not ON the concrete, so it can't wear off or wear out. It permanently makes concrete impervious to the damage caused by salt and water. It densifies and hardens the concrete. It maintains the chemical health of the concrete.
Ok, it works.  But "permanent"?
Learn more about how CreteDefender is PERMANENT here.
CreteDefender P2 can be applied to all sound, properly mixed, properly placed concrete: New or Old, Inside or Outside, Vertical or Horizontal.
  CreteDefender P2 is environmentally safe – Non-Hazardous, Non-Toxic, Non-Flamable, and contains No VOC's.
There Are Three Ways To Order:
If you know exactly what you are looking for and know exactly how much you need, you can simply order online and have the product shipped directly to your home or jobsite. Payment is processed through PayPal, where you can use a credit card to securely order. Product is usually shipped within 3-5 business days.
If you are in an area where we have retail distribution, you can locate a dealer (here) and pick up what you need.
If you want more help in determining which product to use and how much to order, you can call our main office and speak to someone for personal assistance.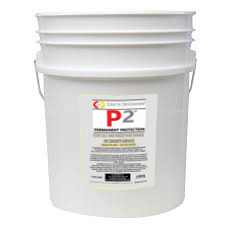 CreteDefender PS2
Pre-mixed 5-Gallon
Our 5 Gallon Pails can be shipped individually or placed on 18-container pallets and shupped anywhere in the world. Each pail will cover 350 s.f. (32.5 m2) on all exterior finishes, and 900 s.f. (83.6 m2) on interior machine troweld finishes.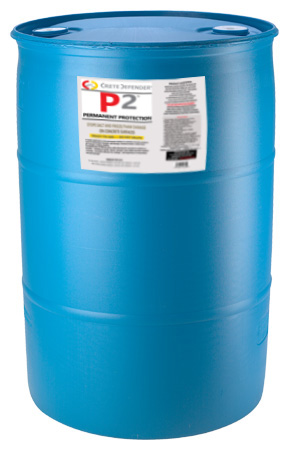 CreteDefender PS2
Pre-mixed 55-Gallon
Our 55-Gallon Drums can be shipped individually or in any quantities, 4 to a pallet, LTL or as 20-foot or 40-foot containers to anywhere in the world. Each drum will treat 3,300 - 3,850 s.f. (307 - 333 m2) on all exterior finishes, and 8,250 - 11,000 s.f. (766 - 1,022 m2) on interior machine-troweled finishes.