Avoid costly concrete tripping hazards
No matter what property you own or manage, the safety of your guests and employees is a critical consideration, both inside and out. Every winter, a decision is made in favor of their safety outdoors – salt the walkways.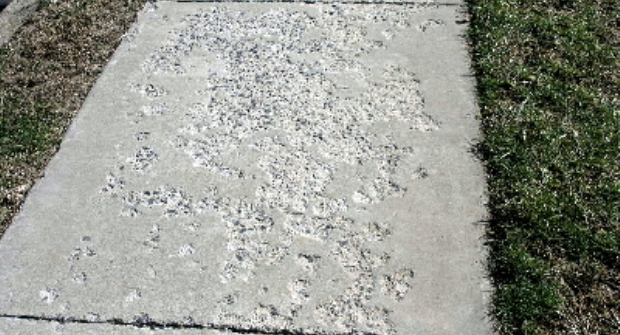 Unfortunately, applying ice melting chemicals destroys your concrete, and the clean lines and nicely finished surfaces are quickly replaced with crumbling at the joints and disintegration of the surface.
The same applies for concrete flooring inside restaurants, manufacturing facilities and warehouses.  Vehicle traffic, food, and in some cases caustic chemicals cause similar damage.  Not only is this unsightly, but it creates places where your guests and employees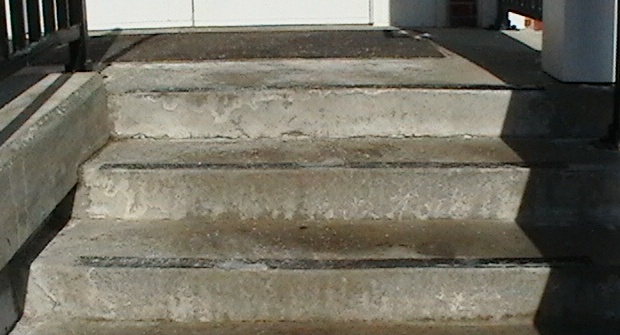 could catch a heel and trip, fall, or twist their ankle… a costly situation that everyone wants to avoid.  It just takes a one inch chip in the surface of a concrete walkway to turn into a $200,000 or more nightmare for a property owner.
CreteDefender can help you lower insurance claims, and even potentially save on insurance premiums, by permanently protecting your sidewalks and floors from salt, chemical, and freeze/thaw damage. One simple application of CreteDefender, and you can salt your sidewalks and clean your floors at will, without worrying about the damage chemicals once caused. You can apply CreteDefender to your existing concrete, and immediately stop the damage underway…damage that may not even appear for a few years. CreteDefender will strengthen the concrete and prevent salts and other chemicals from attacking it – permanently.
Unlike even the best concrete coatings and sealers,  CreteDefender will never wear off or wear out. So, give us a call at (877) 830-6008 today, or email us and arrange for a no-cost visit.